Edible flowers are a great addition to lots of dishes. From canapés to desserts and of course cheeseboards, they can add vibrant colour and unexpected flavour.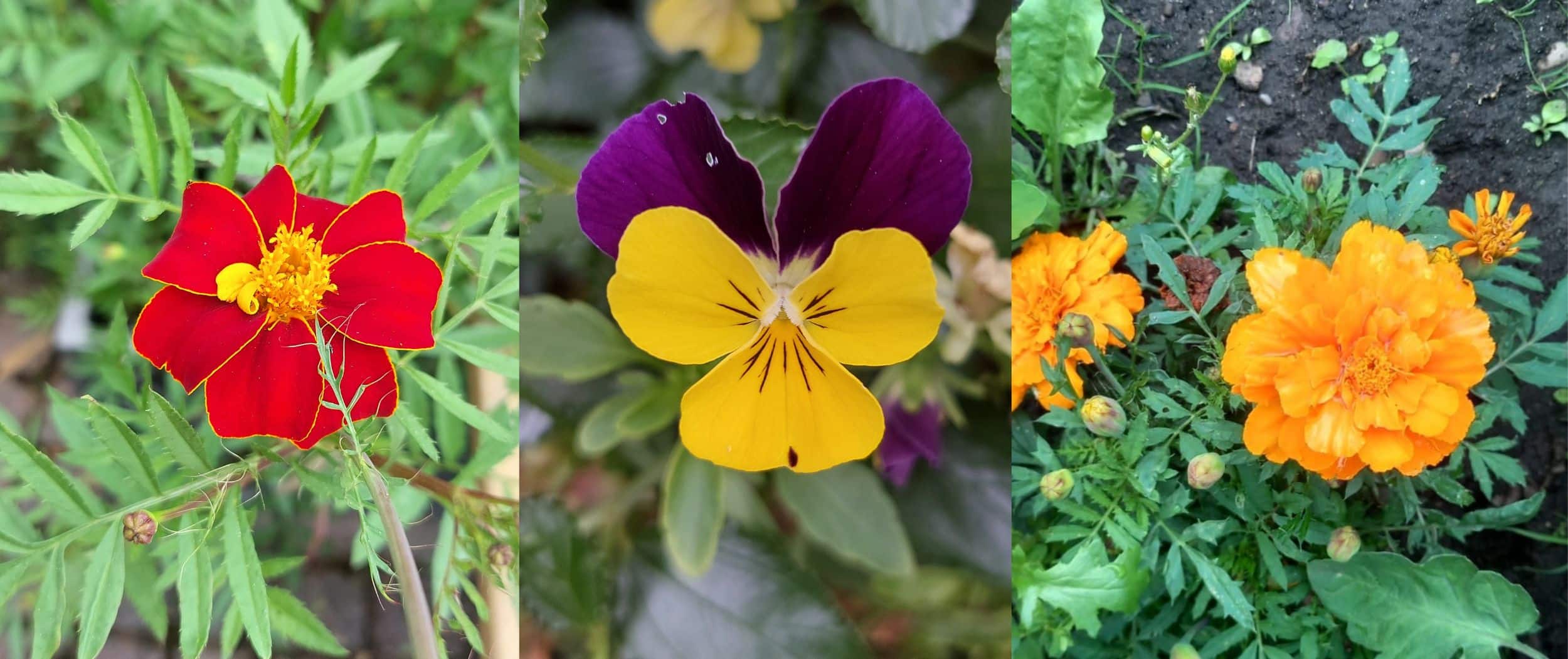 ---
Not all flowers are edible but it's surprising how many are and particularly at this time of year it feels like there's an abundance of them! Don't pick too many as it's great to leave some for the bees. Below is a list of just a few out now and what they taste of.
Edible flowers and some potential uses:
Marigolds- slightly spicy and bitter, a little like rocket
Tagetes- come a variety of colours pictured is burning Embers a dark red with yellow-orange centre-fruity and floral
Calendula- A large yellowy orangy flower with a  mild, herbal, and slightly tangy, bitter flavour
Borage - star-shaped blue flower with a cucumber-like flavour with a touch of sweetness
Nigella – Love in a Mist- flowers- floral- shown here is the white version. The seeds are also edible and have an onion-like, bitter and complex flavour.
Lavender - floral, can be quite soapy so use sparingly.
Roses- floral flavour and scent, great to add colour. Makes a lovely rose water syrup for desserts and cakes too.
Courgette and Squash flowers- incredible to stuff and deep fry in a  light batter, for an aperitif or summer snack. Highly recommend Ticklemore stuffed with a drizzle of honey over the top.
Violas - Slightly floral, but not overpowering. Great added to cocktails and cubes of ice for a bit of extra colour.
Pansy - a mild minty flavour, Same as above.
Apple blossom- a hint of tart apple. The perfect flower for late spring, or early summer.
Nasturtium - comes in a variety of colours with a strong peppery hint. The leaves are also edible and great in pesto to add a bit of a kick. Let the flowers go to seed and pickle with some cider vinegar and you have a lovely naturism caper.
Pea flowers -  a lovely delicate fresh pea flavour. Remember this is the vegetable version, not sweet peas! The  vegetable versions shoots and vine tendrils are also edible and have the same delicate, pea-like flavour
Pineapple weed- a subtle pineapple aroma, with a slight bitter chamomile. Flower heads are great added to syrups for cocktails and the leaves can be used in salads.
Cornflowers – A sweet to spicy clove-like flavour version pictured here are blue flowers.
Chamomile - floral, great dried and infused in a tea also.
Chive blossom - a lilac colour with a mild onion flavour
---
---
---