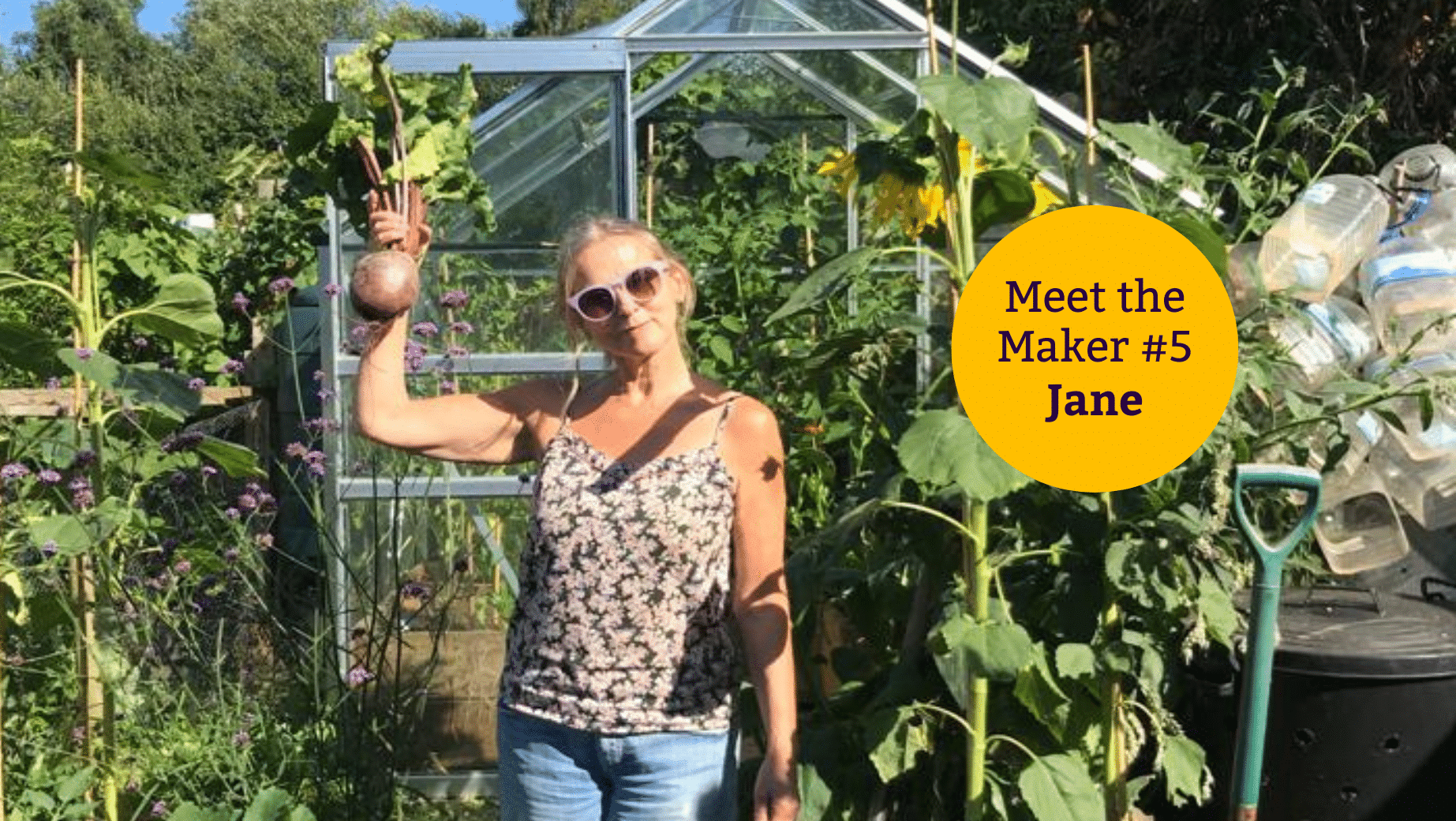 Summer is a great time to introduce you to Jane, our Sharpham Maker #5. She loves nothing more than catching the last of the evening summer sun, sitting by her greenhouse after a day working outside.
Briefly what does a typical day look like for Jane?
I arrive at the Dairy just before 9am. Not an early starter like everyone else! My time is mainly spent in the packing area. Basically I wrap all kind of cheese and prepare orders for despatch.
How did you end up at Sharpham?
I first worked at Sharpham almost 30 years ago… how did that happen?
I'd recently moved down from London and saw an advert in the village notice board in Ashprington for a cheesemaker and thought it might be something different to try. It certainly was!
Then the dairy was in the old Coach House buildings of Sharpham House and we made far less cheese than we do now. I left when I had my son but somehow found myself back again a few years later, this time working in the present dairy building and in a much bigger operation although still in a small team.
Outside of work?
Before I moved to Devon I spent 10 years travelling and working. I lived for a couple of years in Australia and New Zealand and travelled through South East Asia. My best experience? Travelling around India on an Indian Enfield motorcycle (as pillion)! Both exhilarating and terrifying.
Now I enjoy more sedate walks on the coast or on Dartmoor, and living in Totnes I'm perfectly located for both. My main passion though is my garden, growing veg and cut flowers. I love catching the last of the evening sun sitting by my greenhouse content after a day working outside. That brings me total joy and peace.
Any burning ambitions? Cheese related or otherwise.
I'd like to do more long distance walking and get more involved in horticulture in the future - is there a way to combine the two I wonder?!
Favourite Sharpham cheese?
It's got to be Ticklemore Goat.
Favourite place or view in Devon?
It's almost impossible to have a favourite place in Devon… it's all stunning! I feel very blessed to have chosen this beautiful part of the world as my home.
One of my favourite walks is around East Prawle and Gara Rock stopping off Maceley Cove for a dip.
Possibly the best view is coming down Sharpham Drive and looking back up the River Dart to Totnes… it never fails to please (even after 30 years)!
Favourite place to eat or drink in Devon?
Hairy Barista in Totnes for great coffee/brunch.Riverford Field Kitchen for a special meal.
(Cheese wrapping is mesmerising. Watch Jane's expert Brie wrapping HERE).