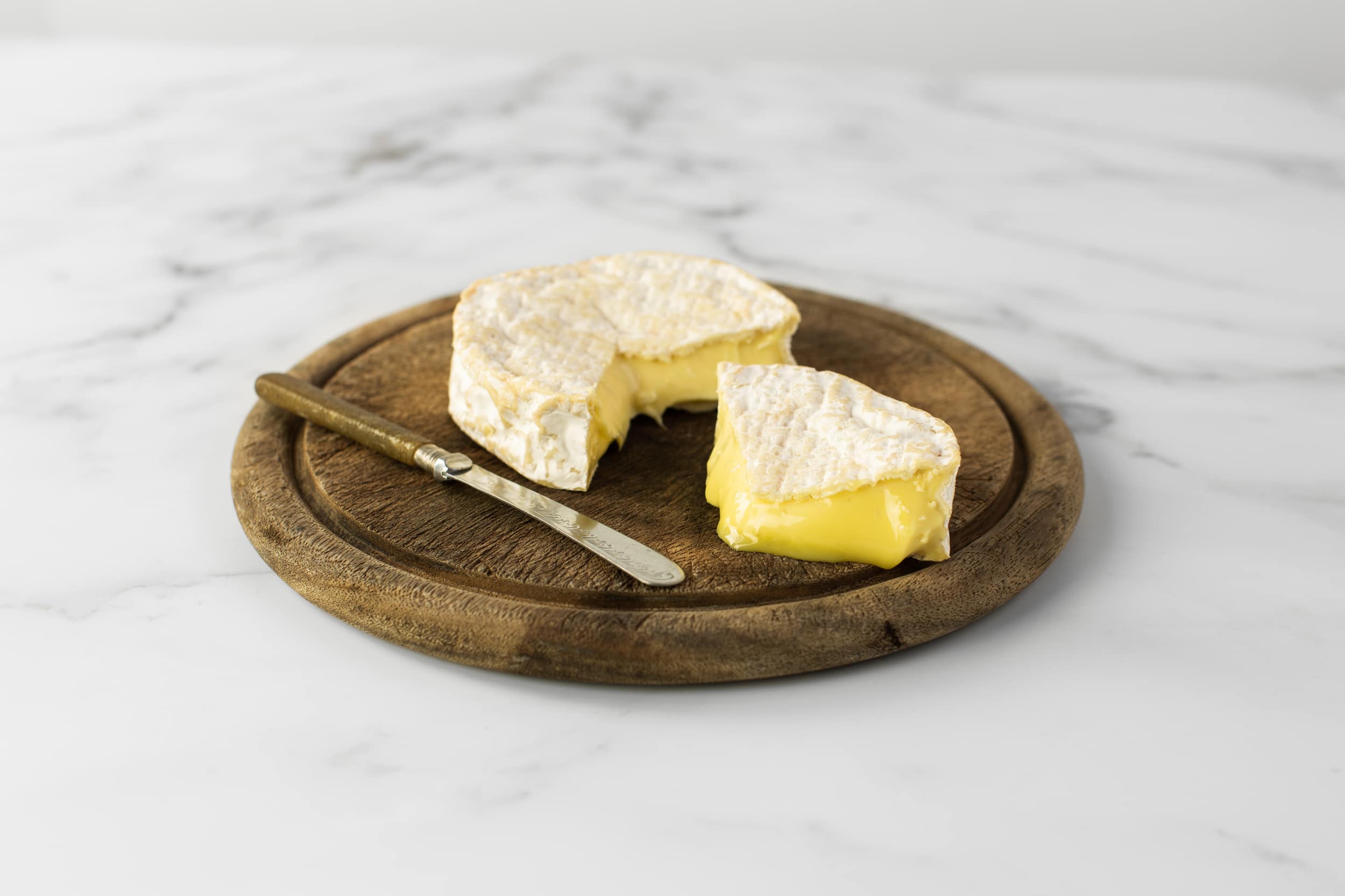 Introducing an all-new cheese to our award winning line up
They say life begins at forty and what better way to mark this milestone birthday than creating a brand new member of the family. Our cheesemakers, led by Peter Howarth, have spent much of the past year refining a new cheese, Sharpham Camembert. After much tweaking and tasting Pete and Greg are now happy to launch it onto the nation's cheeseboards.
For many people their experience of mould ripened soft cheeses might begin and end with a long triangle from the supermarket, but you only have to taste Sharpham's buttery yellow Brie, or our goats' milk Cremet and triple-cream Elmhirst to know that there is much more to this style of cheese than meets the eye.
Now we're introducing a Camembert into our award-winning line up, what does our new kid on the block taste like, how do we make it and just how IS it different to Brie?
Brie and Camembert are related but they're not the same cheese. The variations in taste are subtle and increase with age, both can be described as tasting nutty, earthy, fruity and grassy. Brie ripens with mushroomy notes while Camembert ripens with a deeper, more earthy and intense flavour and aroma, with more vegetable undertones and a distinctly wrinkly skin.
A moist, soft, creamy, surface-ripened cow's milk cheese, it is typically made in individual rounds which makes it perfect for baking. Camembert becomes creamy, oozing and perfect for dipping when heated.
We make it by hand using the slow traditional methods first employed in the late 18th century in Normandy, using rich milk from our own Jersey herd which graze on lush South Devon coastal pastures, giving the cheese its own distinctive taste profile.
According to legend the first records of production of Camembert cheese lead to Marie Harel, a farmer from Normandy who started making this cheese in 1791. Records show that she heard about that recipe from a priest who came from Brie. She passed her secrets on to her daughter, whose husband reputedly presented one of his wife's best cheeses to Napoleon III, who gave to it his royal seal of approval. The rest is history.
This wrinkly Sharpham beauty is equally at home at the centre of a cheeseboard groaning with nuts, figs and fruits and maybe a drizzle of honey, as it is fresh from the oven. We think (or rather we absolutely know) that our Caramelised Fig and Pinot Noir chutney is a beautiful match for its earthy flavours, as is a glass of Sharpham Pinot Noir wine or any full flavoured lightly spiced red.
Sharpham Camembert is a unique combination of traditional Normand methods and our singular South Devon terroir. It's inspired by the French classic, but is very much its own cheese.