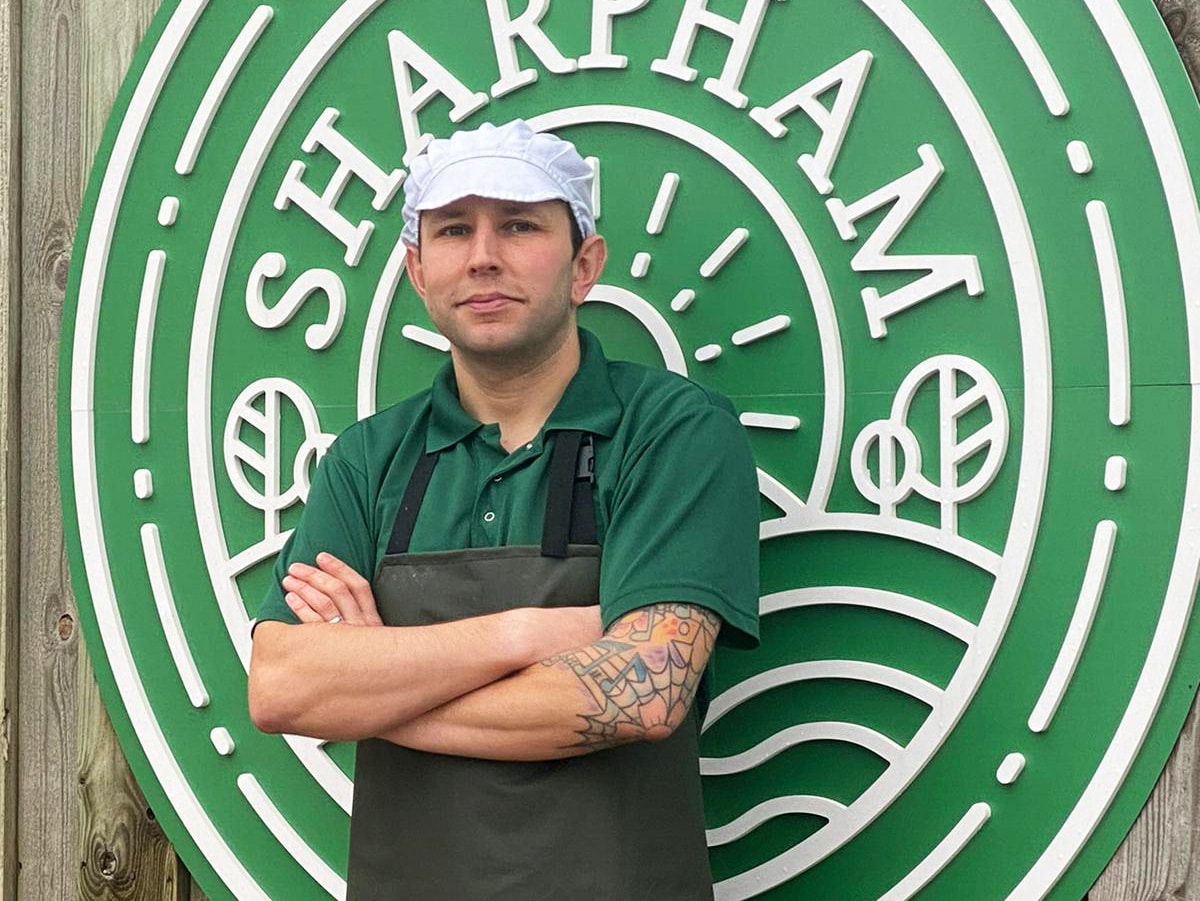 We asked Sharpham Production Manager, Peter Howarth, to run us through his day in the dairy, why cheesemaking and his top tip for a visit to South Devon.
What does a typical day consist of for you?
I usually arrive at the dairy just after 6am. First job is to check that the milk delivered that morning is what we expected.
I'll then run through production to make sure that the team are all aware of what the plans are for the day.
After this I'll look through the orders for the next couple of days to see what's going to be leaving us. Some of our customers prefer specific cheeses, so we'll hand pick the stock to make sure that everyone gets their preference where possible.
Once we've picked all the cheeses for the day's orders, I'll usually head back to the Make Room in time for moulding of that day's cheese.
After lunch I'll be back in the make room for some checks to make sure the cheese made that morning has behaved the way we expect it too.
I usually finish up my day in the office adding new stock to our stock management system and planning our production for the upcoming weeks.
Every week we must strike a balance between the available milk and what customers are ordering. Milk is a natural product, so sometimes we have to make cheeses that we envision selling in the future because the milk is more plentiful, although this can lead to feast or famine with our stock.
We try to balance it as best we can, so we always have the best possible selections of cheeses available.
How did you end up as a cheesemaker?
When the staff from Sharpham were furloughed during the initial Covid restrictions in 2020, I offered to come and help at the dairy. I had previous experience in the food industry, and I was a free pair of hands.
Our cows and goats didn't seem understand there was no one around to make cheese and kept on producing milk! So Sharpham needed to keep making cheese on some level, so the milk didn't go to waste.
The head cheesemaker at the time, Debbie Mumford, suggested to Greg that I had a good eye for cheese making and thought I might be suitable as a Production Manager. I thought it sounded like a great challenge and so began working at Sharpham full time in June 2020. The two years have flown by, and I've enjoyed expanding my knowledge.
Sharpham is keen on investing in training, and I've been lucky to take a number of courses including some with Ivan Larcher and the Academy of Cheese.
What do you like to do outside of work?
I spend most of my time either riding a bike or doing a bit of woodwork. I have just started making furniture and lighting for friends, mainly because we've run out of space in our house so I'm now trying to fit it into other people's homes!
What do you think you'd be doing now if you weren't a cheesemaker?
I've worked in the cycling retail industry, and I think if I wasn't working for Sharpham Dairy I would still be working in that sector, maybe for a brand or as a writer/reviewer for a cycling publication or website.
Favourite Sharpham cheese?
Although it changes regularly my persistently top-ranked cheeses would be Cremet (our goat's milk soft cheese) and Elmhirst (our triple cream cow's milk soft cheese), when they are in perfectly ripe condition.
Your favourite place in Devon?
No favourites. Just Devon, all of it! Have you ever thought about how lucky we are to live here?
Top tip for a visit in your area?
If you can catch them when they are open the Almond Thief on the Dartington Estate has some of the best pastries to offer. After that you could walk up to Dartington Hall, walk along the River Dart, finishing with dinner in the White Hart and a film in the Barn Cinema.
Stop Press! The Almond Thief is about to open a shop in Plymouth.