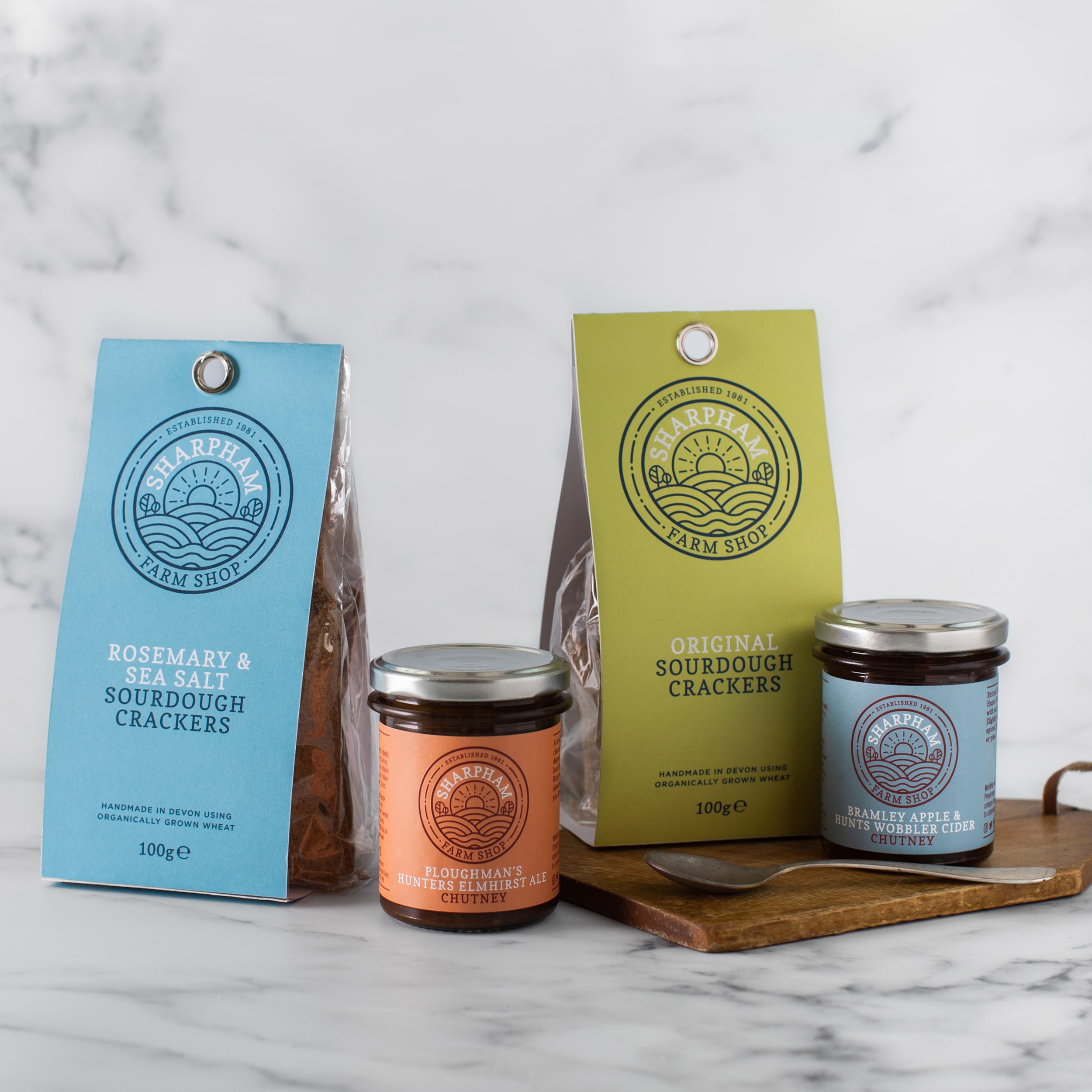 The annual celebration of all things food and drink in Dartmouth saw the Sharpham team launch their brand new cracker range and two new chutney flavours to complete the perfect cheeseboard.
The two new chutney recipes complement Sharpham's cheeses perfectly, but would go equally well with cold meats and pork pies.
The new Bramley Apple & Hunt's Wobbler Cider Chutney combines apples, local cider and sultanas to deliver a dollop of slightly sharp, tangy and lightly spiced deliciousness which pairs particularly well with rich, oozy Sharpham Camembert.
Our new Ploughmans Hunters Elmhirst Ale is a traditional chutney with chunky veg, raisins, dates and a good measure of local ale from Hunters Brewery and packs a fruity punch.
Developed with Devon company, Highfield Preserves, the new chutneys join the original Sharpham range launched in 2021 – Red Onion, Rosemary & Thyme Chutney; Caramelised Fig & Sharpham Pinot Noir Marmalade, and Smokey Red Pepper and Tomato Jam.
But that's not all! Greg and Nicky have been hard at work developing their own sourdough cracker range too.
Working with The Fresh Flour Company in Buckfastleigh they have created two varieties, Rosemary & Sea Salt and Original Sourdough, which come in rustic shards of all shapes and sizes. The new crackers are made with heritage wheats, local honey, Devon sea-salt and soft Dartmoor water and are robust enough to carry any cheese and hold their own under a dollop of chutney.
Rosemary & Sea Salt Sourdough offers an aromatic crunch with bursts of sea salt, while Original Sourdough offers nutty, earthy notes.
Launched at the Dartmouth Food Festival in late October the new accompaniments went down a storm!
Greg said: "We are delighted to extend our chutney range to perfectly accompany our soft cheeses. We are proud Devon people and take every opportunity show case our wonderful produce, so to work with Don and the team at Highfield, along with Hunts Cider and Hunters Brewery, this is a special launch that we hope will inspire others to collaborate."
Buy our new sourdough crackeres HERE and our chutney range HERE and in Country Cheeses, Quicke's Cheese Shop, Greendale Farm.