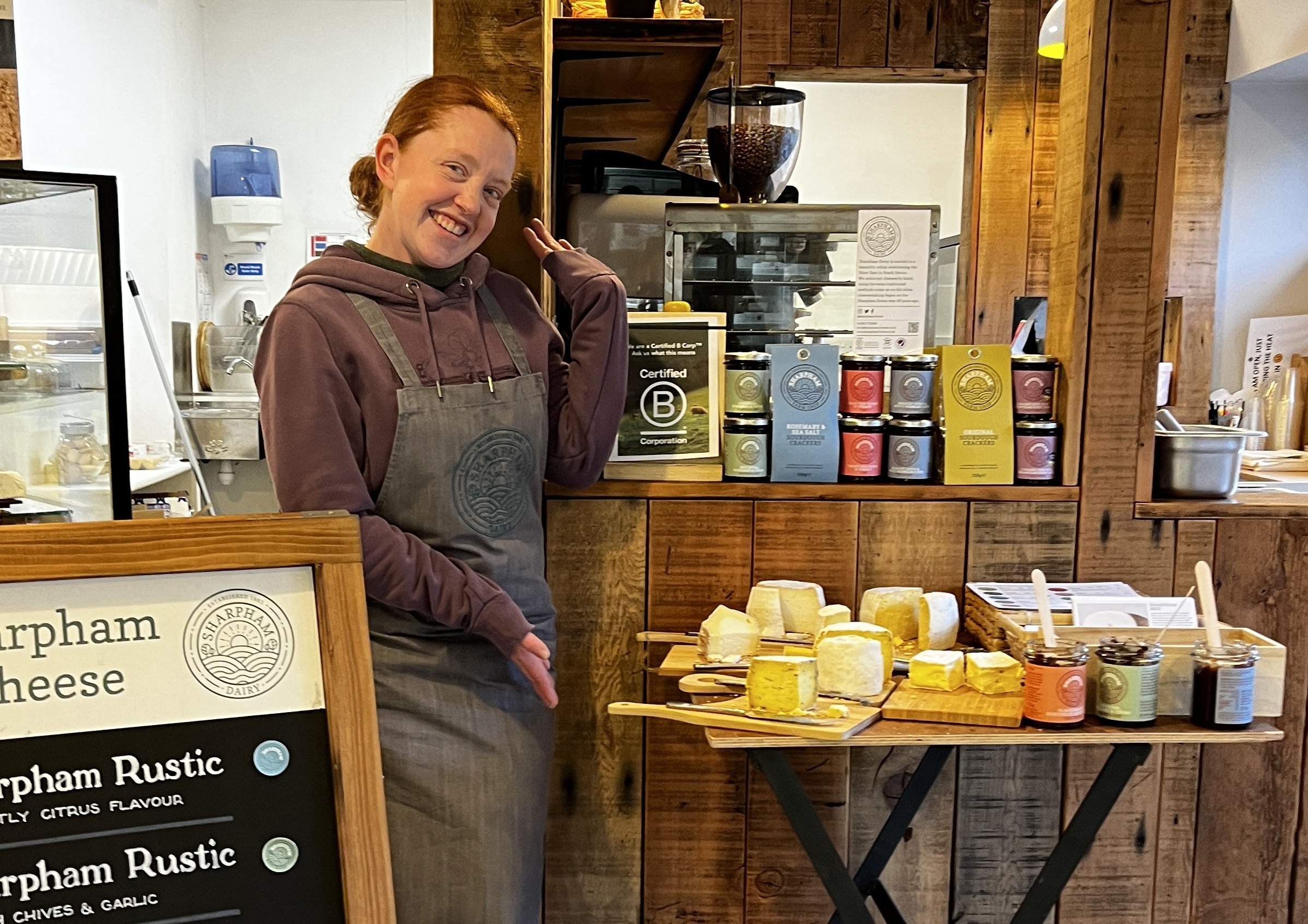 We asked Sharpham cheesemaker Claudia, to tell us about her work in the dairy, why cheesemaking and some top spots in her South Devon home.
Tell us about your work?
It's an early start at Sharpham. I arrive at 6am and work until about 3pm-ish. I'm involved in all aspects of the dairy - making the cheese, washing up, brining, and helping with wrapping and orders.
Occasionally I have a change of scenery and take Sharpham cheeses out to farm shops, festivals and other places so people can taste our range. (Claudia can talk for England and knows her cheese so she's the perfect Sharpham ambassador!)
Every other Saturday I'm in the dairy, but it's often just me in on those days as no 'making' happens at weekends. Cheese still needs to be looked after though(!) so it's mainly brining, turning and more cleaning.
How did you end up cheesemaking?
I began working at Sharpham Dairy about seven years ago, just to help out as I was out of work at the time. It sounded really interesting, and I've never left! I'd had a few jobs before Sharpham, from farm work to waitressing, but I never stuck with a job for long until cheesemaking. I'm not overly ambitious, although I have just completed the Level 1 course with the Academy of Cheese. I don't feel the need to run my own business or anything. I'm happy with a chilled-out life, nice home, good friends, and family.
...and outside of work?
Outside work I like relaxing at home, watching movies with my cat and spending time with friends doing all sorts of stuff. There's lots to do in Devon, especially in the summer - Go Ape, camping and going for long walks.
Where's your favourite Devon spot?
It's so hard to pick a favourite place in Devon as it's got so many wonderful places, but the moors are stunning with plenty of good pubs; Exeter or Plymouth are good for shopping and eating out. I love the aquarium in Plymouth, Paignton Zoo and I do love a trip to Ikea! You can't beat my hometown of Totnes. Lots to see, lovely people and about 30 places to get good coffee!
My favourite Sharpham cheese?
I have a few favourites. Savour has the best texture for me, it's creamy but firm. Elmhirst is so good and I - unlike most people - like it on the young side and straight from the fridge! Not forgetting Rustic Chive and Garlic which is my go-to cheese on top on lasagne or any pasta bake as it melts beautifully and goes golden brown.
Thanks Claudia!