Recipe by Daniel Teague, Head Chef at The Cellar Door, Sharpham
From For the Love of the Land by Jenny Jefferies
Wild Garlic is a delicious perennial that grows in abundance on the Sharpham estate. It partners perfectly with cheese, and they find themselves paired together in many different dishes at The Cellar Door, our onsite restaurant. It is available from late winter through to the end of spring.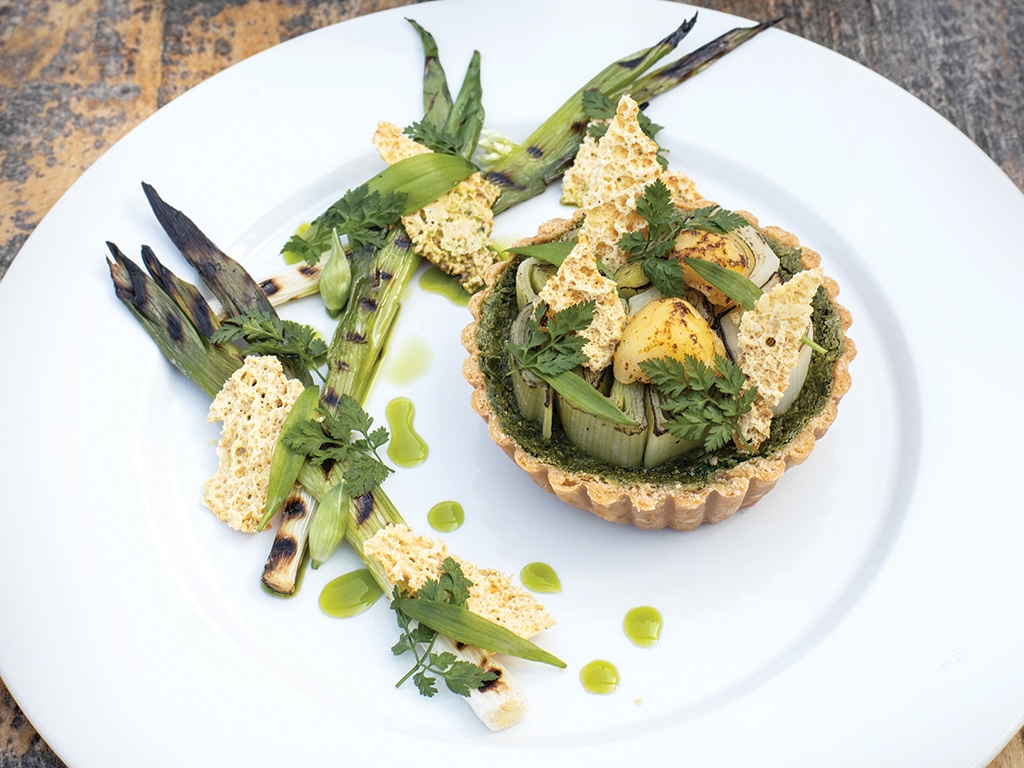 Prep Time1 hr 30 mins
Cook Time1 hr
Total Time2 hrs 30 mins
Ingredients
For the pastry
170
g
plain flour, plus a little extra for dusting
For the filling
1
free range egg plus 2 yolks
For the topping
For the wild garlic oil
To serve
Method
1
Pulse pastry ingredients together in a food processor with a tablespoon of iced water until the pastry just comes together. Wrap in clingfilm and chill in fridge.
2
Finely shred 1 large leek. Put in a pan over a low heat with the butter and cook slowly until tender. Allow to cool. Blanche wild garlic in boiling water for 15 seconds, then place in cold water to cool. Drain, then blend with the spinach and 20ml water until smooth, then blend in the egg, yolks, cream and season with salt and pepper.
3
Roll pastry to 3mm thick, cut into 4 circles and place into a non stick 10cm tart case. Prick the base with a fork, then place a circle of greaseproof paper on top and fill with baking beans. Blind bake at 160c for 15 minutes, remove the baking beans and bake for a further 5 minutes until golden. Glaze the inside of the tart cases with egg yolk, then bake for 1 minute.
4
Split cooked leeks between the tarts, then crumble 20g of cheese into each. Add wild garlic and spinach mix and fill the 4 tarts to the top. Bake at 150c until the tops are set and they no longer wobble, around 25 Minutes – 30 Minutes.
5
Slice another leek into 1cm rounds. Place in a single layer in a pan with the butter and stock, and gently simmer until tender. Allow to cool.
6
For the wild garlic oil, blanche garlic leaves in boiling water for 15 seconds, refresh in cold water, then squeeze out as much water as possible. Blend with oil and a pinch of salt on high speed for 3 minutes, then strain through muslin to make a clear oil.
7
On a metal tray, arrange the poached leeks into a round for each tart, interspersed with 1cm lumps of cheese. Colour the top with a blowtorch, or a very hot grill, and transfer to the top of your tart.
8
Grate the remaining cheese, sprinkle evenly into a non stick frying pan. Cook over a low heat until the cheese turns golden brown. Remove the cheese from the pan and allow to cool, then break into shards.
To serve
9
Cook baby leeks on a chargrill for 1-2 minutes each side. Garnish tarts with chervil, wild garlic leaves and shards of cheese crisp. Arrange baby leeks on side with more crisps, wild garlic, chervil and garlic oil.