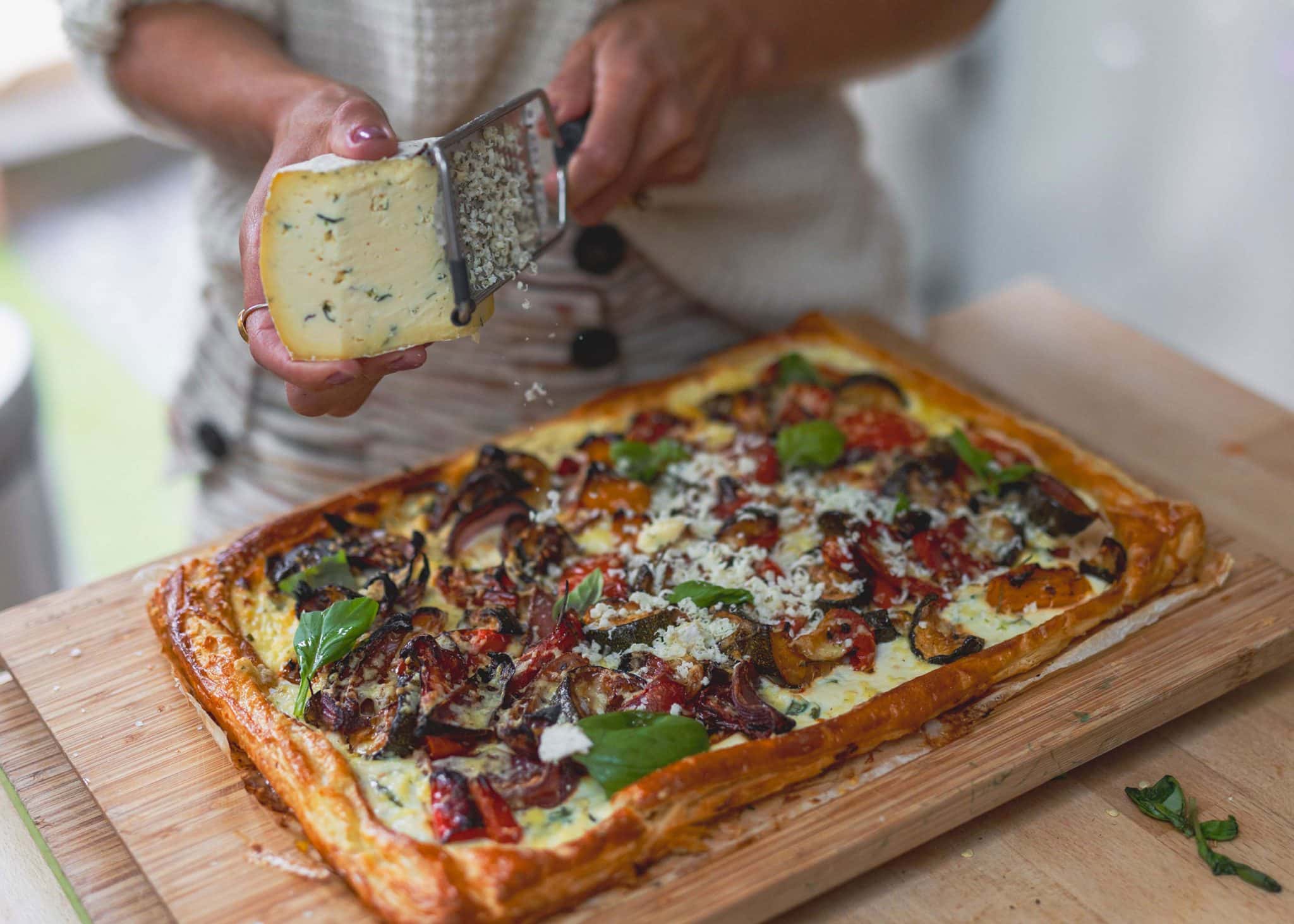 A tasty, cheesy, moreish tart, ideal for everything from casual summer al fresco dining to family picnics on the beach. With the mildly salty, umami tang of our 'seaweed cheese' and the caramelised sweetness of roasted veg. Delicious!
Ingredients
320

g

Ready made puff pastry

250

g

Ricotta cheese

1

Lemon

1

Egg

2

Peppers

1

Red onion

1

Courgette

3

Plum tomatoes

Extra virgin olive oil

Basil

200

g

Rustic with Dulse and Sea Lettuce
Instructions
Preheat oven to 200c.

In a large roasting tin, mix the chopped vegetables with plenty of olive oil and season generously. Par-roast in the preheated oven for approximately 20 minutes - until the vegetables are only just cooked but not yet caramelised - stirring occasionally. Remove from the oven and leave to cool.

Line a baking tray with baking paper and roll the puff pastry out on top. Score a 1cm border around the pastry and either prick the middle with a fork, or score lightly with a knife. With a pastry brush, carefully brush beaten egg over the border, saving the rest of the egg for the ricotta.

In a small bowl, mix the ricotta with plenty of salt and pepper, half the grated Rustic and Dules Sea Lettuce cheese, half the basil leaves, zest and half the juice of the lemon. Stir through the remainder of the beaten egg thoroughly.

Spread the ricotta cheese mixture over the pastry centre, avoiding the border. Cover with the cooled roasted vegetables, drizzle lightly with olive oil and return to the oven. Cook for approximately 25 minutes, or until the sides have puffed up and the base is cooked through and crispy. Check from time to time and if the vegetables are starting to catch, cover loosely with baking paper.

Grate the remaining Sharpham Rustic Dulse and Sea Lettuce generously over the top, a further drizzle of olive oil, basil leaves and sprinkle of coarse sea salt.