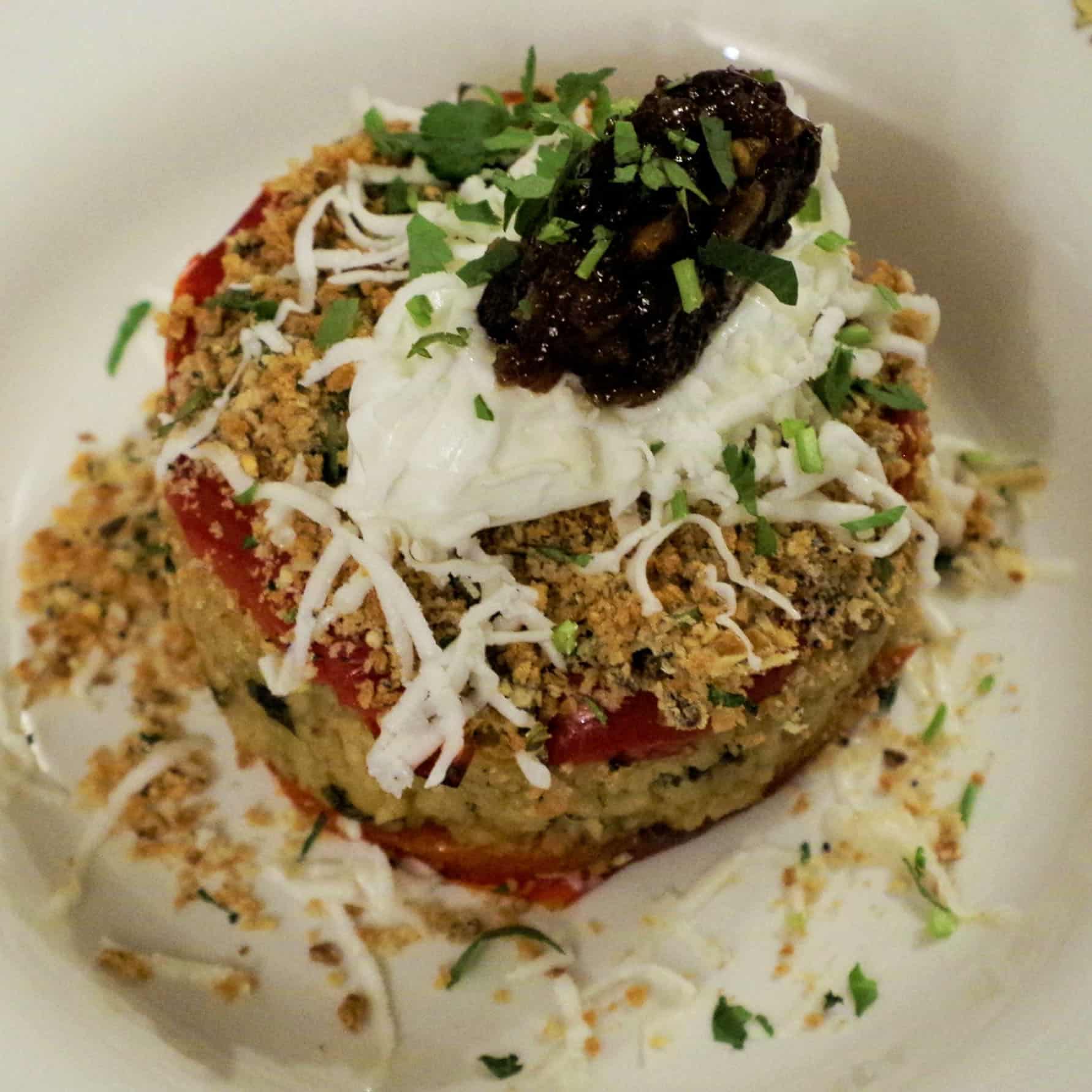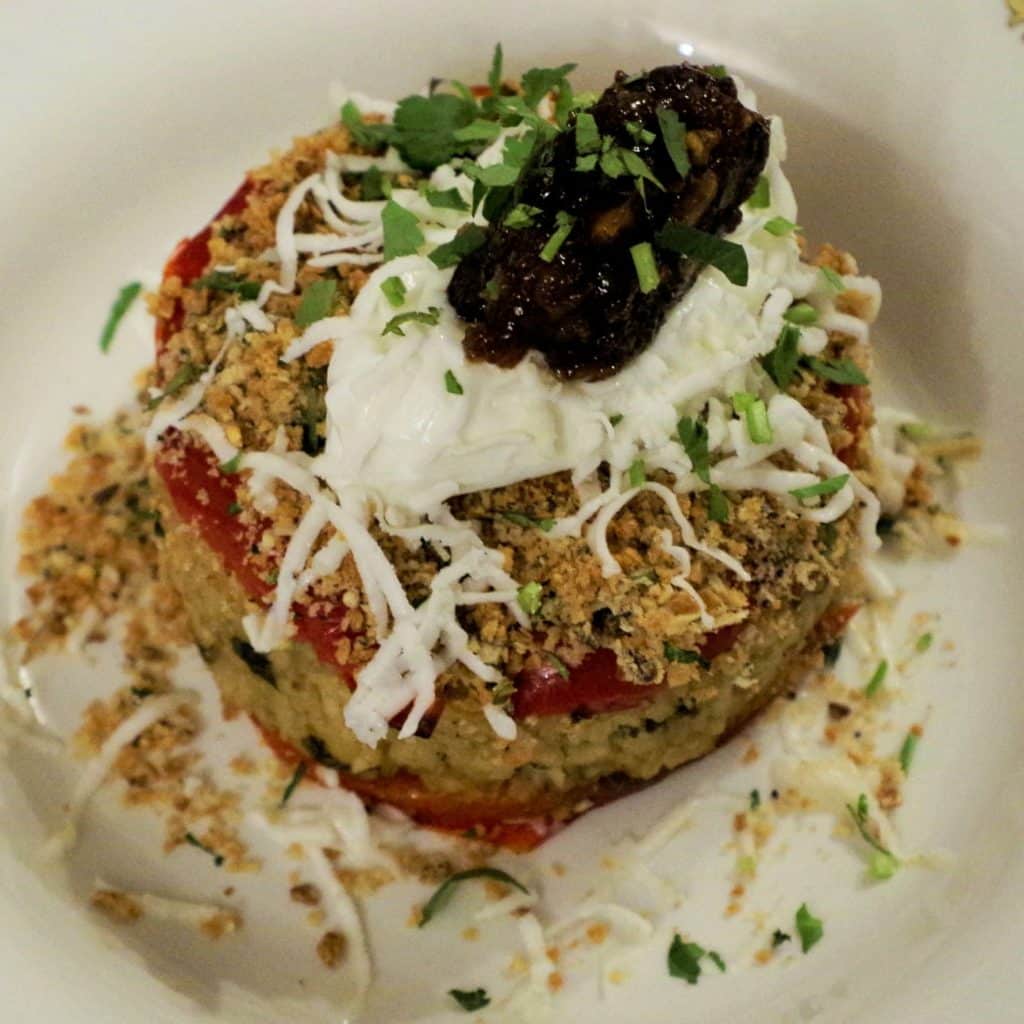 Moroccan grains and chick peas tenderly cooked in a mild curry paste and vegetable stock. Baked with roasted red peppers and a Ticklemore and coriander crust. Another delicious dish created for us by chef and recipe creator extraordinaire, Ray Lorimer. Preparation required the day before you want to make it though so plan ahead!
Ingredients
100

g

Chickpeas

700

ml

Water

2

Red peppers

2

tsp

Olive oil

0.5

Onion

3

Garlic cloves

100

g

Bulgar wheat

100

g

Quinoa

4

tsp

Madras curry paste

10

g

Vegetable stock cub

15

g

Coriander

150

g

Ticklemore goats' cheese

2

Slices of seeded wholemeal bread

60

g

Fruit chutney
Instructions
Advance Preparation: Soak the chick peas, 1 clove garlic and 1 bay leaf overnight in 250ml of the boiling water and cover with a lid. Finely dice the onions, halve the red peppers lengthways, remove seeds and stalk, chop the coriander and set aside. Prepare and lightly oil 4 x baking rings 9cm (3½") diameter x 4cm (1½") deep. Crumb the bread with a hand blender or similar, evenly toast under a grill or in a hot oven. Add a quarter of the chopped coriander, mix in and set aside.

Place the chickpeas and steeping liquor, bay leaf and garlic clove in a small saucepan. Add a pinch of salt, bring gently to the simmer and simmer for about 15-20 minutes or until the chick peas are cooked. Set aside.

Lightly oil the peppers' surface and bake in a medium hot oven, 180°C for 20 minutes or until cooked to requirement. Remove, cover with a kitchen cloth or cling film and rest for 2-3 minutes prior to service.

Using a 9cm ring cut out 2 roundels of red pepper to each portion. Roughly chop any remaining peppers. Using a large sharp knife carefully slice each pepper rondel in half to give you two roundels per pepper and 8 in total. Set aside.

In a saucepan, lightly fry the prepared onions and remaining garlic garlic in a little olive oil and cook without colour.

Add the quinoa and bulgur wheat, heat through, without colouring, for 2 minutes. Add the curry spice, cook gently, stirring continuously, for 2-3 minutes to infuse flavours.

Add the remaining boiling water made up to 450mls with any remaining cooking liquor. Add the crumbled stock cube/paste and the chick peas, bring to the simmer. Gently cook for 20 minutes with lid on, stirring occasionally or until all stock has been absorbed and the quinoa and bulgur wheat have expanded by volume and are tender. Remove from the heat.

Grate 100g of the Ticklemore Goats' cheese and mix in with the chopped coriander until the cheese has melted and evenly distributed within the mix. Cover with a lid and set aside

Place the 4 lightly oiled rings on a baking tray, line the base of each with half a pepper rondel, and fill to just below the top with the bulgur wheat filling. Smooth and compact. Top with the remaining red pepper rondels.

Top the rondels with the herb crumb and a little grated Ticklemore. Compact down, place in a hot oven or under a hot grill and cook until the cheese melts. Remove and serve.

Serve in the centre of the plate. Garnish with a quenelle (shaped spoonful) of thick fruit chutney and 0% thick yoghurt. Sprinkle over a little grated Ticklemore, crumbs and chopped coriander. Serve with mixed green salad.

Chef tips: When transferring from tray to plate slide a palette knife or slice underneath and lift onto centre of plate, remove the slice/palette carefully, loosen edges if necessary and gently remove the ring. Canned chickpeas can be used as an alternative to dry but allow for up to 50% wastage of weight by liquid drainage. Fresh vegetable stock can be used as an alternative to stock cubes. Salt has not been added as there is sufficient seasoning and flavouring within the curry paste, herbs and grains. Parsley can be used as an alternative or as an accompaniment to the coriander and use as much as you feel comfortable with.