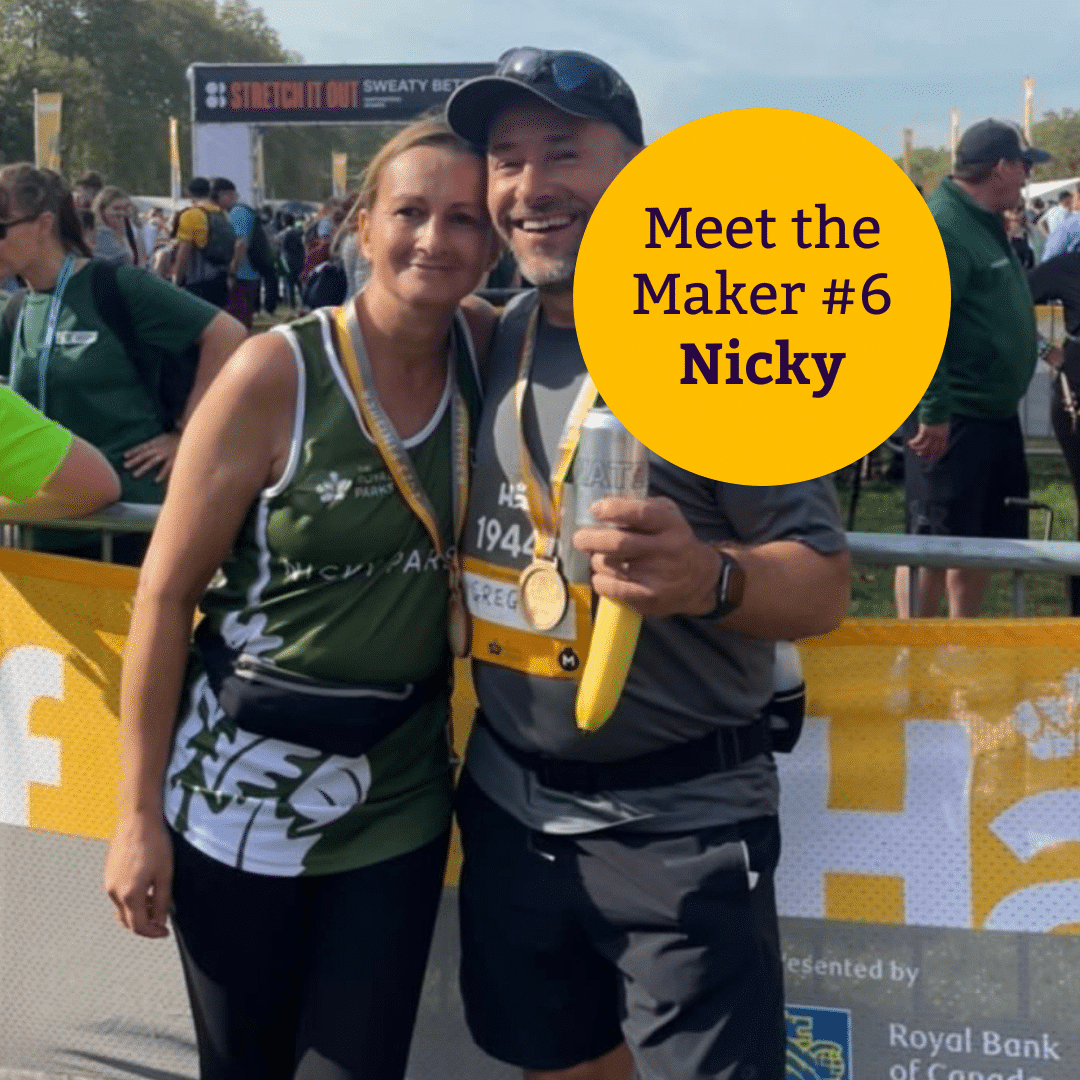 Meet Nicky, co-owner of Sharpham Cheese and multi-tasking queen. Nicky never really intended getting involved in Sharpham day-to-day - that was until Covid hit and the world changed.
What does a typical day look like for you?
I don't really have a typical day as my job is pretty varied. Some days I work at home - working on marketing, our website, cheese awards, wedding cakes, events, photography. I also cover the office doing general admin while Greg escapes to his many other jobs.
At least once a week, I get myself in amongst it with our small team - wrapping cheese, putting together orders and just general duties, which keeps things interesting.
How did you end up at Sharpham?
My husband has worked in the food and dairy industry all his career and the opportunity came up in 2019 for us to buy Sharpham Dairy, a decision which I fully supported.
When we took the leap I was a visual merchandiser for GAP which I loved as I love being creative. Prior to that I was a Montessori teacher for 15 years, so while taking on Sharpham was very much within Greg's comfort zone it was definitely way out of mine!
Very quicky after buying Sharpham GAP closed, and then Covid happened, and we had to furlough our staff at Sharpham. Then it was all hands-on deck with me, Greg and two of our daughters heading into the dairy and packing room to keep things running. We just had to get on with it and there was no turning back after that, I was part of the team.
Is there anything at Sharpham which is just your job?
Yes, Sharpham cheese wedding and celebration cakes are my baby, and they're something I launched in 2021.
We offer a bespoke wedding cake service and an off-the-shelf wedding/celebration cakes. I liaise with the customers and arrange tastings so that the couple can choose their favourite cheeses for their special day. I also guide them with decoration, so it looks stunning and fits in with the rest of their wedding styling.
Outside of work?
Outside of work I enjoy walking my Cocker Spaniel, Ronnie and running - I completed the Royal Parks Half Marathon in London last weekend with Greg. Our kids were cheering at the finish line. It was a very special moment.
I love spending time with Greg (Mr Cheese) my four grown-up children and two grandchildren. I enjoy visiting art galleries and reading when I get the chance, although life is hectic most of the time.
Any burning ambitions? Cheese related or otherwise.
My burning ambition would be to keep doing my job at Sharpham; being part of the family business is rewarding, but also perhaps freelancing as a visual merchandiser.
I had the opportunity last month to spend a week working at Selfridges in London on their Christmas visuals, plus a pop up in store for Vogue. It was my absolute dream week! I have sent them a very large box of cheese so hopefully they will invite me back!
I'd also like to do some travel now the children have flown the nest. Something I didn't do when I was younger.
What would you be doing now if you weren't in the cheese world?
If I weren't in the role I am now, I would definitely return to visual merchandising.
Favourite Sharpham cheese?
My favourite Sharpham cheese? That's like choosing a favourite child. I can narrow it down to two, Brie and Savour.
Favourite place or view in Devon?
My favourite place in Devon would have to be the Bridge Inn, Topsham. I've been lucky enough to live in Topsham, near Exeter my whole life. As a family, we never get tired of the beautiful walks around the town or the legendary riverside Goat Walk. Our walks often end with us all around a table in the beautiful garden of The Bridge with a glass of cider and an incredible view of the River Clyst.
Our family Christmas wouldn't be the same without our walk to The Bridge for a pint and some Christmas carols.
... and finally?
When we got the news that we'd secured funding to acquire Sharpham, Greg and I were having a cheese lunch in one of our now customers, La Fromagerie in London. I think it was a sign!
To sum it all up, I feel lucky that I get to work with my husband (well most of the time ha ha) and that our children, friends, and family love Sharpham and fully support us both.