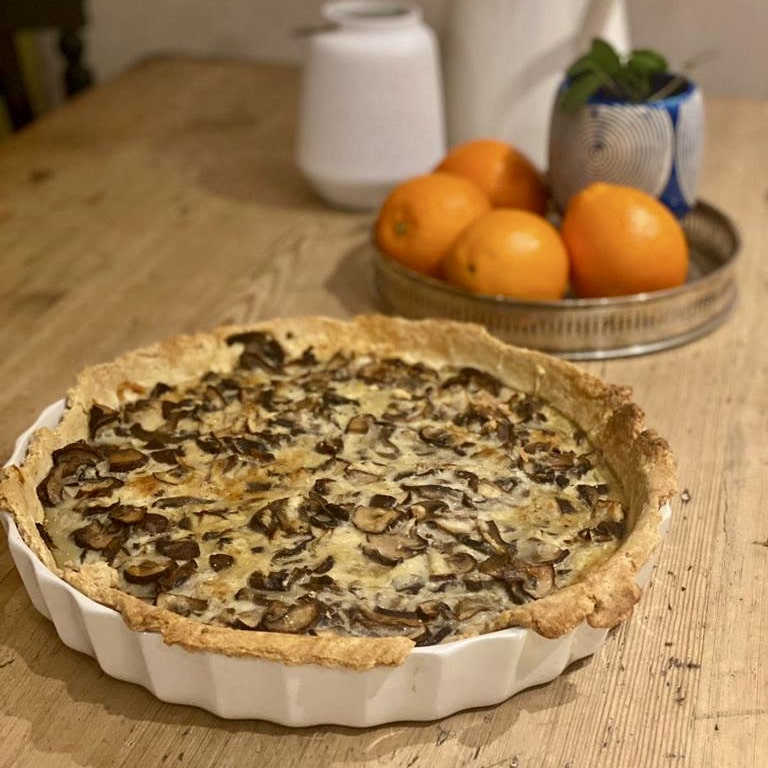 A recipe from our very own Peter H, who is not only Sharpham's Production Manager, but a trained chef too. He has created a delicious, savoury tart, full of flavour and packed with the deep umami notes of mushroom and complemented by our award winning Washbourne sheep's milk cheese. We've tried it and it is lovely!
Ingredients
For the pastry
500

g

Plain flour

220

g

Cold lard or butter

2

Large eggs

Splash of milk

Few sprigs of fresh rosemary

Salt and pepper
For the filling
900

g

Mixed mushrooms

3

White onions

4

Large eggs

Splash of full fat milk

120

g

Sharpham Washbourne

Salt and pepper
Instructions
For the pastry case
Preheat oven to 190 degrees.

Add flour and cold lard (or butter) and generous pinch of salt into a mixer and pulse until crumbly, then add the herbs.

Add the eggs and milk until the mixture comes together, then turn out on to the worktop.

Bring together into a ball, wrap in cling film and leave to rest for a couple of hours.

When rested, roll out on a floured worktop and then lay into a 12 inch pastry dish or ring. Prick the bottom, and pop into a freezer for 30 mins.

Egg wash the pastry case and blind bake for 10 minutes.
For the filling
Thinly slice the onions and over a medium heat, add salt and pepper and cook down until translucent. Cook down the mushrooms, again adding salt and pepper.

Whisk the 4 large eggs together (I used duck eggs) and add a splash of milk. Stir in the cooled mushrooms and onions. Crumble the Washbourne cheese into the mix.

Pour into your pastry case and grate and little extra Washbourne on top. Bake for approximately 30 minutes