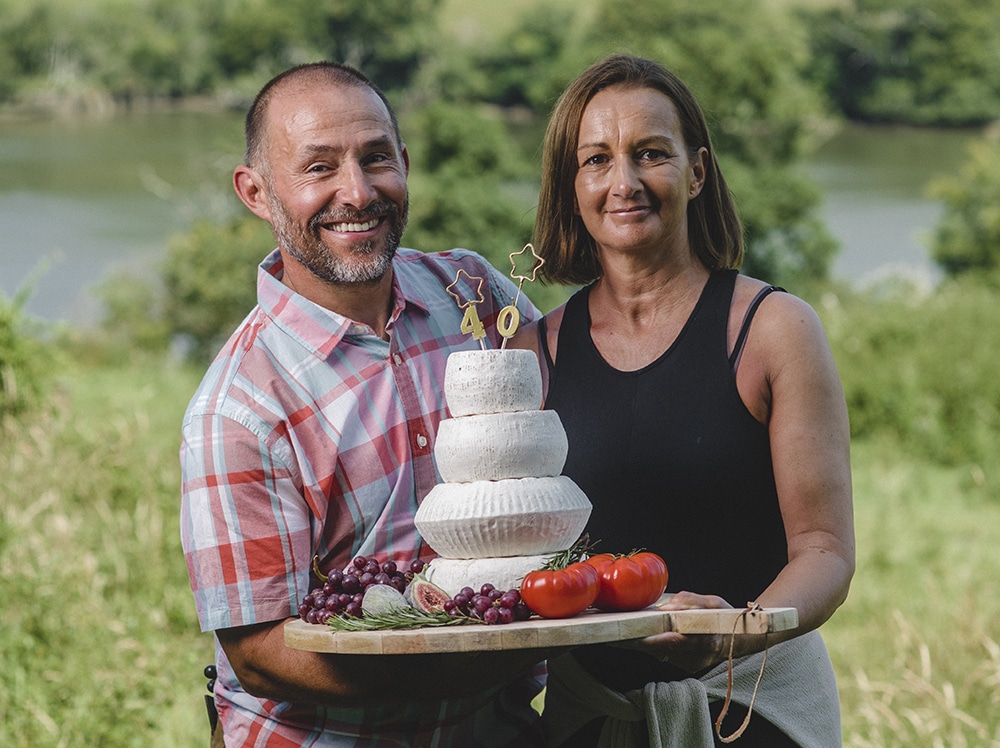 Multi award-winning Sharpham Wine and Cheese is celebrating a phenomenal forty years at the South Devon based Sharpham Estate. To mark the occasion there will be two very special events this September; a celebratory five course birthday meal at the Sharpham Estate and a virtual wine and cheese tasting.
Forty years ago, Maurice Ash brought his herd of Jersey cows down from Essex to the Sharpham Estate in Devon and set to work crafting his first creamy, bloomy-rinded brie. He then planted the first vineyard overlooking the River Dart in a bid to produce wine. With humble beginnings, Ash unknowingly established Sharpham's globally acclaimed cheese and wine businesses.
The next incarnation came when family member Mark Sharman, and partner Debbie Mumford took over the dairy and vineyard. They launched new cheeses with exceptional goats' and sheep's milk, which are still winning global awards today.
Over the years, while the products continue to be made with the same care and attention as always, the cheese and wine brands evolved and grew into two separate entities. Greg and Nicky Parsons now head up Sharpham Dairy, located at the Sharpham Estate, while Sharpham Wine has recently relocated to a new home on the east bank of the Dart at the Sandridge Barton Estate in Stoke Gabriel and is now run by Duncan Schwab.
Sharpham Dairy's Greg Parsons says: "Over the past forty years, we have prospered despite recessions, frosts and a global pandemic. We are thankful and privileged to have such outstanding teams, loyal customers and all those who have supported us over the years to get us to where we are now. We're celebrating this milestone together and raise a glass to the next forty years."
Head Winemaker, Duncan Schwab says: "Forty years is quite an achievement and definitely something to celebrate! Although we have moved across to Sandridge Barton, Sharpham Wine is still made with the same grapes from the same vineyards with the same team, to make the same wines our customers know and love. Our new state-of-the-art winery equipment will double our production from 60,000 bottles produced in Totnes to over 120,000 bottles per year. We have an exciting future ahead at Sandridge Barton."
While many changes have taken place over the four decades, both businesses' roots continue to run deep through the geographically unique River Dart. The river brings with it sea breezes, ecological diversity and lends an exciting terroir that breathes life into the cheese and wine's character.
The two producers are looking forward to welcoming cheese and wine lovers to two engaging events in September to help celebrate the past forty years at the magnificent Sharpham Estate:
On Thursday 9th September, the two brands are hosting a celebratory five course 40th birthday meal at the Sharpham Estate. Chef Daniel Teague is renowned for his unique style of flavoursome, wild food, inspired from the coast and country surrounding the River Dart. This special meal has been specially crafted for the event and will showcase the finest local seasonal produce from the area. Places are very limited Book HERE
Sharpham Dairy's Greg Parsons will present the cheese course, featuring the outstanding range of cheeses all handmade on the estate. Duncan Schwab, CEO and Head Winemaker at Sandridge Barton - the new home of Sharpham Wine will guide guests through a carefully chosen wine selection to match each dish.
On Wednesday 8th September, Tom Wedgery from Sharpham Wine and Greg from Sharpham Dairy will host an exclusive birthday virtual wine and cheese tasting event. The tasting box includes some of the multi-award winning Sharpham wine and cheese favourites to exercise our palates. Book and order tasting box HERE
... and if you can't make either event, then we have a special Sharpham Cheese 40th Birthday Box you can order for home delivery HERE