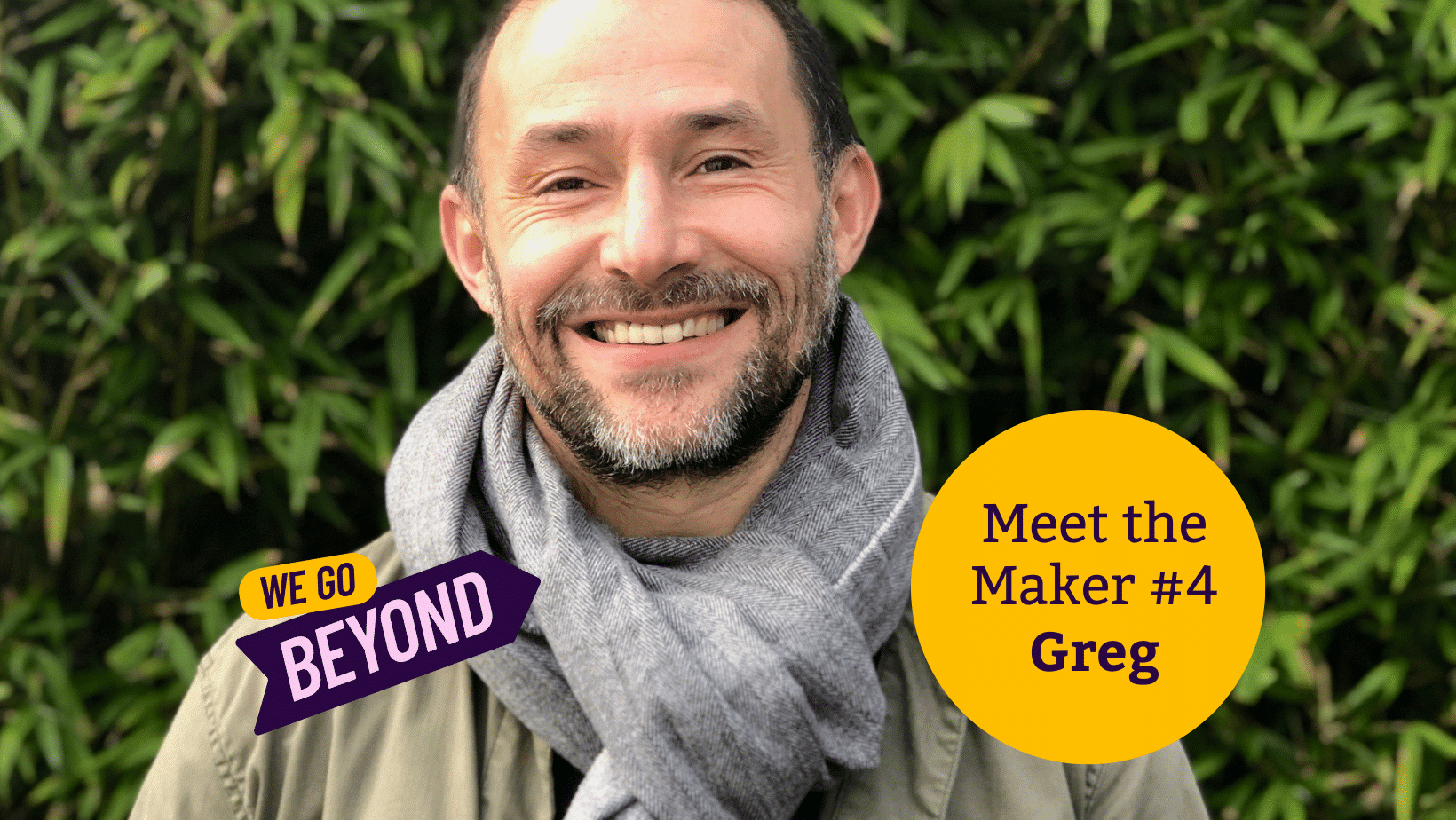 This B Corp Month we thought we'd grill our MD and Big Cheese, Greg Parsons, and share the man, the myth and the legend with the world...
Briefly what does a typical day look like for Greg?
An early riser, Greg is up and out of the house before the family is awake and has covered the 35 miles to the dairy by around 6.00am. You can rely on him to capture a dramatic sunrise from the dairy doorstep on his iphone. Whether it'll be in focus is another thing entirely!
Often, he picks up Operations Manager / Head Cheesemaker, Pete and cheesemaker Nicky on the way. The dairy is a long way down ever-narrower country lanes, so car sharing is a sensible and environmentally-sound solution.
As MD his day is chock-a-block – from tasting the morning milk delivery and numerous dairy-related office jobs, to meetings and troubleshooting and if he's lucky a lunchtime walk to the river with dairy dog, Ronnie.
Greg is usually home by mid-afternoon and onto the next thing – he also has outside commitments to such organisations as Food Drink Devon, the Larder Cymru project for the Welsh Government and others.
How did Greg end up at Sharpham?
Greg has enjoyed a 37-year career so far in food and drink with many big players such as Unilever, Dairy Crest before joining the board room at SME's such as Ashley Chase and Cricketer Farm. In July 2019 Greg bought Sharpham Dairy with wife Nicky, after working in a consultant role with the former owners and falling in love with their range of soft cow and goat cheeses.
Not long afterwards the pandemic struck, and all hell let loose. Having to quickly pivot away from supplying hospitality to selling direct to the public, Greg and Nicky invested in marketing, rebranded Sharpham Cheese, built a new e-commerce website, hosted online wine and cheese tastings, launched cheese celebration cakes – and kept busy!
During Covid, Greg and Nicky also decided to pursue BCorp accreditation as a way of validating that they were going about things the right way in creating a business that the team, suppliers and retailers would be proud to be associated with. After two years' hard work Sharpham became the first UK dairy cheesemaker to achieve the certification in April 2022. Find out more about Sharpham and B Corp HERE.
Outside of work?
What keeps him busy outside of work? Nicky, four adult kids, two grandkids and black spaniel Ronnie are top of the priority list - closely followed by anything active. (Although he did manage to squeeze in becoming an alumni of the Goldman Sachs 10,000 Small Businesses UK programme in 2021).
Greg enjoys a chilly sea swim, cycling, yoga, rugby (watching and playing the tag version), running and anything else sport related.
He led his Cheesy Rollers group of cycle buddies from Land's End all the way to John O'Groats in 2021 in support of charities close to all their hearts, Force Cancer Charity and Medic Malawi, the latter being a project which Greg had been lucky enough to visit in 2018.
The man can't sit still! (Which is always a worry as he's famously accident prone).
Any burning ambitions? Cheese related or otherwise.
The lease on the dairy building on the Sharpham Estate comes to an end this year, so the next big adventure for Greg, Nicky and their small team is to move production and set up a brand-new home for Sharpham Dairy at Longcombe on the other side of the River Dart near Stoke Gabriel. Sharpham will anchor the new Longcombe venture, which has big ambitions to become an artisan food production and education hub, with a community of like-minded businesses on site.
Favourite Sharpham cheese?
Greg's favourite is Sharpham's amazing and decadent soft goat's cheese, Cremet, accompanied by summer fruits and fresh bread, washed down with a glass of Sharpham Bacchus.
Favourite place in Devon?
The Mamhead side of Haldon Forest where you get outstanding views over the coast, common and estuary is a special place for the Parsons family as there is a memorial bench there for Greg's late mum and dad. This is Greg's favourite place in Devon.
Giving back
Greg is the current Chair of Food Drink Devon, an organisation which champions the county's artisan food, drink, hospitality and specialist retail community.
"Having built businesses, a career and a happy life in the hospitality, food and drink industry, I feel obliged to give something back. I accepted the role of Chair to help others thrive in this industry too."
With a community of 350+ members, four part-time staff and a volunteer Board of Directors, Food Drink Devon provides a voice for smaller businesses in Devon and actively promotes the county as a destination for outstanding food and drink.
Greg recently led a hugely successful Taste of Devon event at the Houses of Parliament with Anthony Mangnall, MP for Totnes and South Devon showcasing Devon artisan produce, and cheese of course!
In recent years, in his role on the National Advisory Board for Dynamic Food Procurement, Greg led a steering group in the southwest to set up a 'pilot' for food and drink supply to public procurement, working with Crown Commercial Services. The pilot turned into a community-interest company called the 'South West Food Hub', with the objective of using technology to open up public sector procurement to small and medium-size food and drink producers throughout the south west.
Greg also has a voluntary role with the Parklife Community Hub and Cafe in Heavitree as mentor and he's enjoyed watching the community project go from strength to strength.
So there you are, you now know a little bit more about Sharpham's owner and B Corp champion! If you're in the business you'll find him on LinkedIn HERE.