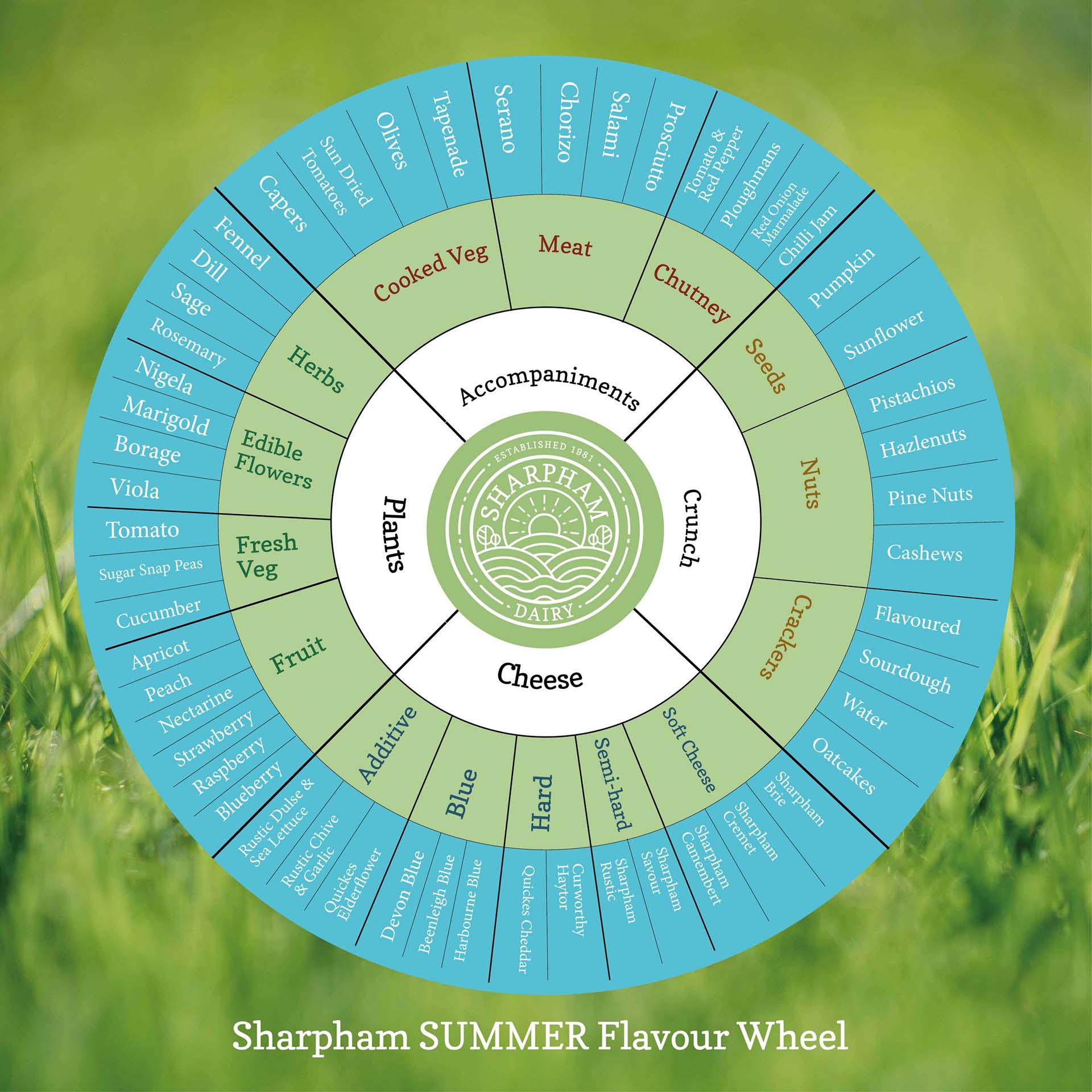 Introducing our Summer Flavour Wheel to help you create a cheeseboard of dreams! Divided into Cheese, Accompaniments, Plants and Crunch, we explore the many other edibles you could add from pumpkin seeds to pine nuts, sage to salami and olives to oatcakes, to create a Insta-worthy seasonal sharing platter with texture, flavour and colour. Read on... and scroll down for full size wheel.
---
Creating a summer cheeseboard can sometimes feel a bit overwhelming.  So we're here to help you to mix it up if you keep coming back to the same old selection. 
We've split the flavour wheel into CHEESE, CRUNCH, ACCOMPANIMENTS, and PLANTS.
Make sure you have a few of each of these elements for interest and variety. From here you can add in elements that will add extra FLAVOUR, TEXTURE and GOOD LOOKS into the mix.
Cheese
Balance is important in choosing cheese and we'd recommend using one of each of the following cheese varieties:
A soft, a blue, a hard and a flavoured / sometimes called an additive such as our Rustic with Dulse and Sea Lettuce for instance.
Crunch
We suggest going with a couple of different crackers to give choice, texture, and flavour, alongside a few handfuls of nuts and/or seeds.
Accompaniments
For accompaniments, it's great to have a choice of a couple of contrasting chutneys.
If you're a meat eater, you can add in even more flavour and texture with charcuterie. Here in Devon we have some spectacular producers, such as Rare & Pasture, Good Game and Beckland Charcuterie.
'Cooked' vegetables are a must. Olives and sundried tomatoes, capers and tapenade can all add a richness and savoury notes to your board. We'd probably pick one or two from this category, or things could get quite salty.
Plants
Many people forget that these sit beautifully on a cheeseboard. If you look a bit further than the traditional grapes, you could try some summer berries. Blueberries and strawberries pair deliciously with cheese. Baby tomatoes and sugar snap peas are also real winners.
Edible flowers and herbs add that final visual finishing flourish, turning your cheeseboard into a thing of beauty!
Even if you're creating a cheese board for two you can choose to have small erportion of each of the main categories, choosing which elements work and give you a balanced board.
If you'd like to see how to build a cheeseboard, click HERE to watch Sharpham's Kate putting one together and read our blog post HERE for more cheeseboard ideas.